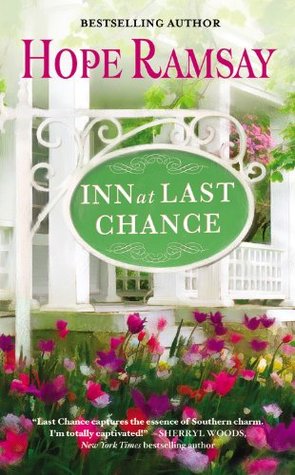 I was able to finish
Inn at Last Chance
. This is Hope Ramsay's 7th book in the
Last Chance
books. For those are not familiar with this series Last Chance is a small town South Carolina with a lot a southern charm. Let's not forget that everyone is in your business. Hey, its a small town.
For those who like
Jane Eyre
, you all might like
Inn at Last Chance
. I saw this story as a modernize version of
Jane Eyre
. Since I have never read
Jane Eyre
and I have only seen the movie version, I felt that it was close to the movie version in a lot of ways. Yes, you have our grumpy hero, Gabriel Raintree. We have our meek quiet heroine, Jenny Carpenter. We can't forget the good citizens of Last Chance (they are the ones that make the story unique).
In many ways Gabriel Raintree is like Mr. Rochester. However, there are some differences like he doesn't have a child. Anyway, he's a big ol' grump throughout the story, but slowly warms to Jenny. Now Jenny; that poor girl. She's has accept to be the towns spinster and she has given up on love. She's just not lucky in love. However, Jenny and Gabe balance each other out.
Anyway, I have to say that
Inn at Last Chance
has a little darker feel from the previous story. However, it still has those moments that make it a fun read. Of course, you have the meddlesome towns people. Yes, Gabe and Jenny find there happy ending, but there are few obstacles that stand in there way. Yet, you will still find that southern charm in the book. Overall, I did enjoy
Inn at Last Chance
. Yes, it's kind of like
Jane Eyre
in it's own way. So, if you are looking for a modernize Jane Eyre-esce story, you might want to give
Inn at Last Chance
a try.
Copy provided by the publisher
Rating: