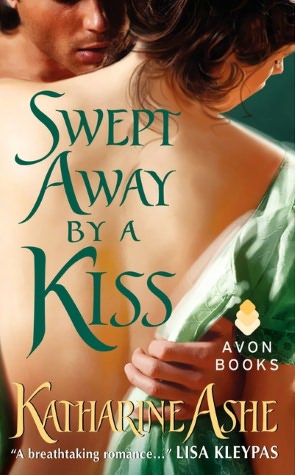 This weekend I made a plan to read all of Katharine Ashe's books. Well, that didn't happen, but I was able to finish
Swept Away By A Kiss
. If you haven't read any of Katharine Ashe's book, get yourself ready for a journey across the sea.
Lady Valerie Monroe is ready to return to her native England and she boards the ship that will take her home. When she boards the ship comes across Viscount Steven Ashford. However, he is masquerading as Jesuit priest across the Atlantic. Trouble occurs while on the high see and they are taken captive by a crazy pirate. Let me be honest, crazy is putting it mildly. Steven has a mission to catch a peer who is involved in slave trading. Then we have Valerie who is caught in the middle of all this. While all this is happen Steven is trying his hardest to keep Valerie safe from all things, even him.
I adore this book. I found Valerie to be someone we can all look up to. She is strong willed and brave; she is willing to risqué everything to find her happiness. We have a reluctant hero, who is afraid to let fate take its course. With that said, if you get a chance, check out
Swept Away By A Kiss
you might enjoy it as I did.