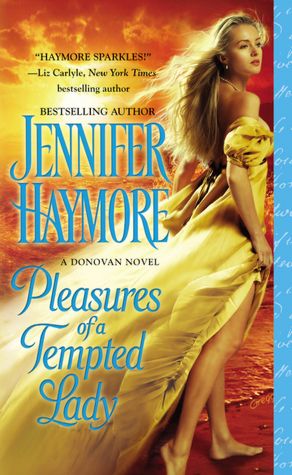 Today's selection comes from Jennifer Haymore's
Donovan Sisters
series. We are checking out the fourth book in the series which is
Pleasures of a Tempted Lady
.
Eight years ago, Margaret Donovan was lost at sea and never seen again until she was spotted in a little floating boat by Captain William Langley. Will and his crew rescues Meg and the little boy with her. Will is in utter shock to see the love of his life alive. A miracle.
Meg has a hard time trusting Will, after all she just escaped a horrible wicked man by the name of Caversham. She is reluctant to share the secrets she keeps, but Meg gives a modify version to Will. Will's first mate, David Briggs, doesn't trust Meg and fears that Will be hurt helping her.
Meg is returned to her family and Will sticks around to rebuild the relationship they once had. By rebuilding the relationship they had before, Will had to drop a bombshell and Meg has a hard time with the information that she receives. In essence, Meg is learning to trust people again.
I liked this book.
Pleasures of a Tempted Lady
is an enjoyable read. Will is a hero you can love and he plays the hero part well. You have Meg's younger sister, Jessica trying to help her sister get out of trouble which leads her into trouble. Towards the end was a nail bitting experience. Overall, you might want to check out this book.
On a side note I plan to read the other sisters stories. So long and happy reading.